Situated in the historic fishing town of Inveraray on the banks of Loch Fyne, Samphire is a small seafood restaurant using locally sourced sustainable seafood and shellfish along with meat and game from the surrounding hills and glens.
Our goal is to showcase the finest produce Argyll and the West Coast has to offer while helping to support local small businesses and the fishermen and farmers who supply such amazing ingredients both caught and farmed on our doorstep.
Our aim at Samphire is to let the ingredients do the talking and let the main element of each dish shine through without overcomplicating or shadowing the fresh delicate flavours they each possess. From the hand dived scallops to the native Lobsters landed at the south end of Loch Fyne freshness is key and each dish has been developed to showcase and enhance the already delicious flavours of the sea and surrounding area.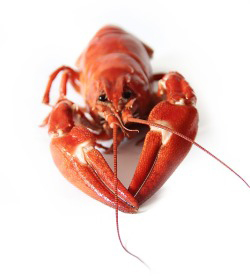 The Restaurant
Samphire is located to the south end of the Royal Burgh of Inveraray. The grade A listed building which was once a butchers shop and greengrocers has been tastefully renovated to a high standard giving Samphire a modern feel while still keeping in touch with its historic roots.
Samphire is situated 50 yards from the shores of Loch Fyne looks on to Relief Land which was once used to store salt used in the curing of Herring which was key in the prosperity and development of Inveraray in centuries gone by. Although fishing in the Town has declined substantially small independent fishermen and trawlermen are now reviving the industry and are an important part in allowing us at Samphire to provide customers with the freshest langoustines, scallops and lobsters possible.
Our goal is to continue showcasing the delicious seafood and shellfish Loch Fyne has to offer, which has been so important in sustaining Inveraray since the 18th century and in turn help us to promote the local business who supply our produce.
Our Ethos
Here at Samphire our ethos is to provide the freshest seafood while respecting the sea and helping to sustain the fish stocks so that future generations can also enjoy the produce we are lucky enough to have today. The following List is provided by The Marine Stewardship Council and lists the species of fish which are currently viewed as sustainable. It is also our belief that practices such as, line fishing and hand diving although can increase cost are extremely beneficial to the surrounding marine life and will ensure that endangered species and the fishing industry can grow and thrive in years to come.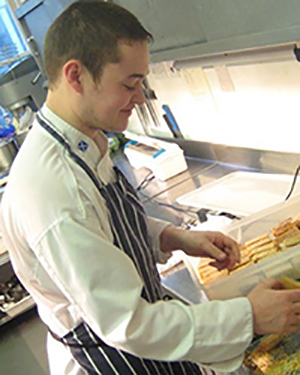 Andrew Maclugash
Inveraray born Andrew Maclugash has spent 14 years in the industry, developing his skills with some of the country's top chefs including Michelin Star awarded Marcello Tully, Paul Sim and Roy Brett in restaurants from Scotland to London and aboard luxury cruise liners as far afield as the Caribbean. Andrew has been lucky to work in some of the country's top restaurants where he honed his skill and was rewarded by being the very proud winner of "Young Scottish Hotel and Restaurant Chef of the Year" in 2010.
Andrew's ambition was always to open his own restaurant in the town he grew up in. He wanted it to be something new to the area and a venue to showcase the diverse and top class produce Argyll has to offer while benefitting other local suppliers and businesses. This dream along with 14 years of planning led to the opening of Samphire.
When it comes to cooking, Andrew believes that the ingredients on the plate should speak for themselves and when using such amazing, local seafood the freshness and natural flavour should shine through, without the need for being over complicated. The contents of the sea are precious and the emphasis is on serving food as nature intended it to be enjoyed.

Good seafood platter We enjoyed an early evening seafood platter. The small restaurant was fully booked. Cozy atmosphere but feel it would be too dark for a lunch visit on a bright summers day. Staff friendly.

Absolutely fantastic Superb meal, can't fault in any way. The scallop mousse starter was unusual and highly recommended and the specials we tried were really nice. Restaurant catered for the children with small fish and chips and ice cream. You've missed out if you go to inverarary and don't eat here.
Another 5! Running out of superlatives for this restaurant. Continues to be our favourite restaurant in the country. Don't miss the Seafood Stew.

Fantastic! Fantastic local seafood, varied menu with options to suit all tastes including non-seafood options. Lovely interior, friendly staff, highly recommended.
Delicious Sampshire serves really delicious food in a small friendly room. Had a board with daily fresh offerings including perfectly fried scottish squid and tender scallops. Go and enjoy.

Perfect Night Out Great menu fabulous food and friendly, attentive staff, highlight of our trip to Loch Fyne. Faultless

A five star experience. The reception on arrival was fantastic, the surroundings were excellent, but the quality of the food and service was amazing. The Sea Bass was superbly cooked and literally fell off the bone. The staff were very attentive and nothing was any trouble for them. A truly five star experience.

Best squid ever Lovely intimate space for dining. Varied menu mostly centred around seafood but nice dishes available for on fish lovers. Great service from the owner with her partner being the chef. Best squid I've ever tasted, melted in your mouth followed by the seafood stew also beautifully cooked and presented. Quite expensive but well worth it. Been want to go for a long time and will be back soon hopefully.

Great food, excellent service The staff here are really welcoming and friendly, as well as amazingly efficient at their job. They actually know about the food - and the food itself is as good as you'll get anywhere. Creative menus crafted by someone who obviously knows and loves what they're doing. And it's all at a very reasonable price and in a super environment.